Squeezing the fountain: How General Motors became Admiral Motors
September 3, 2011 ☼ Detroit ☼ Sports ☼ Technology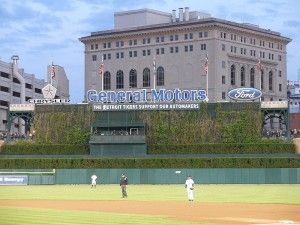 The history of fountain sponsorship at Comerica Park in Detroit is spotty, given the turbulence the auto industry has dealt with in the decade or so since it was built.
A giant fountain behind center field is set off whenever the Tigers score, and also between innings, with bursts of water also referred to as Liquid Fireworks. The water show is also played pregame and postgame, and can be set to music. General Motors sponsored the fountain and held the naming rights from 2000-2008. Two GM vehicles were placed atop the fountain during that time. For the 2009 season, the fountain sponsorship was dropped by GM, due to their financial trouble. The Tigers decided to keep the General Motors logo on the fountain however, and also added the logos of Chrysler and Ford, with the statement "The Detroit Tigers Support Our Automakers". In 2010, GM again sponsored the fountain, renaming it the Chevrolet Fountain.
Which is why, while watching copious amounts of baseball on MLB's various iPad and web products I get a kick out of this every time: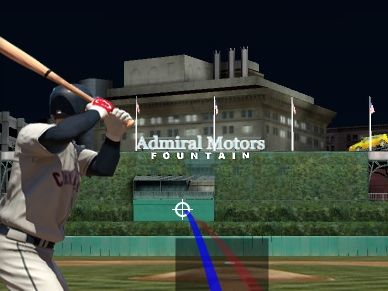 The Admiral Motors fountain! MLB Advanced Media certainly doesn't want to give General Motors any free branding on its apps. And GM probably didn't want to do a deal. So, we reach an impasse, and Admiral Motors is born. Our national pasttime, putting an ad on every possible surface, meets our national automaker, not spending much money on marketing.
But what about all the other fields? Well, of the nine hosting games this afternoon, Wrigley Field, O.co Coliseum, Busch Stadium, Fenway Park, Tropicana Field, Minute Maid Park, Nationals Park, Kauffman Stadium and Sun Life Stadium, only Busch and Minute Maid have any branding for anything other than the generic team name or Major League Baseball, MLB.com products (like "MLB 11 The Show" videogame). Minute Maid has a nice big logo where it presumably appears at the stadium, and Busch has a big fat 'Cola' sign where a Budweiser billboard would be. Certainly a case for Gladys at Product Displacement.
I can't really fault MLB.com for trying to monetize it all–I'd rather blame them for the crappy display inventory that's rusting their brand like sea air, or the auto-renewal of the MLB.tv package, a $100-something charge that hits your bill every February, or the fact that even once you've bought MLB.tv you have to pay more to watch on your phone, or your iPad, or the lame-ass Saturday blackout rule that has me listening to the Tigers and missing my beloved Mario and Rod while Boston and Texas go at it in the national broadcast on Fox. But Admiral Motors, really? If I ever run into Bob Bowman again, and he's back on the trail to become the governor of Michigan, there are going to be some questions.