In Person: Story Hour, on Invisible Design
August 12, 2015 ☼ Events ☼ Published Elsewhere ☼ Things I Finished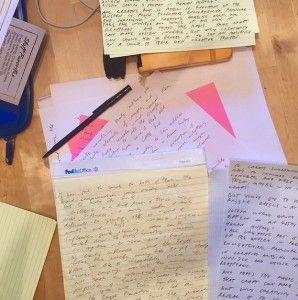 A few weeks ago I was able to make good on a promise and participate in the second installment of the Design Museum of Portland's Story Hour series. The premise is quite simple: a group of storytellers have a short period of time to tell a story around a specific prompt. There are a few constraints, though: the time period is very short, either four or eight minutes, and you get a single image as your background, no slides or other a/v trickery.
The theme was 'invisible design' and while a bunch of kind of pop-design podcast fodder (Can you see the arrow in the FedEx logo?) came to mind I felt the constraints and format leant themselves to a little bit of meta tomfoolery.
So the whole thing was series of stories inside a talk inside an elaborate setup.
The effect was better experienced in person, but I'll try to set it up here for you before sharing the substance of the speech.
The entire story was delivered as if I were reading notes off a sheaf of papers, and there were several references at the onset to visual aids helping me work in this unusual style. As the series of stories around the theme build, I begin to spread outward to talk about how this elaborate level of conscientiousness around how things are set up can ultimately deliver experiences that leave a real impression on people.
The big reveal was at the very end, when I turn my "notes" around and show they're actually blank. The effect I was hoping to impart on the audience was one of "oh, he wasn't reading from notes, he must have memorized it, that's another level of invisible design that he's incorporated." I think there were a few clucks of understanding; to be honest, my heart was racing so much at flubbing a few final lines that I wasn't paying total attention to the audience. But the overall effect was not, as was my fear, totally lost.
Despite the thematic around magic and creativity, there was no magic involved (unless maybe someone thought I erased the notes on the paper or wrote them in invisible ink). It was sheer, brute memorization. The short format (four minutes) and my tendency to want to pack these sorts of talks with information made it crucial that I get everything down to the second, timing-wise.
Suffice to say I rehearsed the shit out of this, in a bunch of different ways. I have talked in public in front of audiences probably 40-50 times a year for the last four or five years and to have a totally scripted thing that has to be super tight on time is one of the more challenging things tasks I've set myself.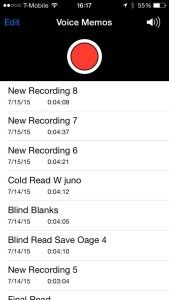 First, I wrote the draft. That took about a week of side-time. Then I went through proofs and made 3-5 paper edits to make the master. Then, I recorded myself speaking a version to time (four minutes on the dot) based on the final refinements. Then, I would alternate between a few elements: table reads, out loud, from the script; sessions where I'd listen to the recording continuously (riding my bike to work, or waiting for lunch at a restaurant); sessions where I'd listen and simultaneously copy the material in longhand. And lastly were sessions where I'd recite the speech cold, with no prompts, then listen and compare with the original printed draft. I have at least 15 of those saved on my phone.
I've never been good at memorizing, and respect that skill a lot in friends who can. (I am forever envious of one friend, trained in the classics, who has an enormous mental library of poems and toasts and whatnot.) I need musical accompaniment to make anything stick. And about 98% of my cultural HD is full of jingles and nonsense anyway. But somehow I managed to get through this with only a few flubs.
Anyway, here it is. Not sure if I want to do something like this again anytime soon but I done did it. And it managed (I think?) to be entertaining to the audience, and not just esoteric wank.
Here's the background image I used: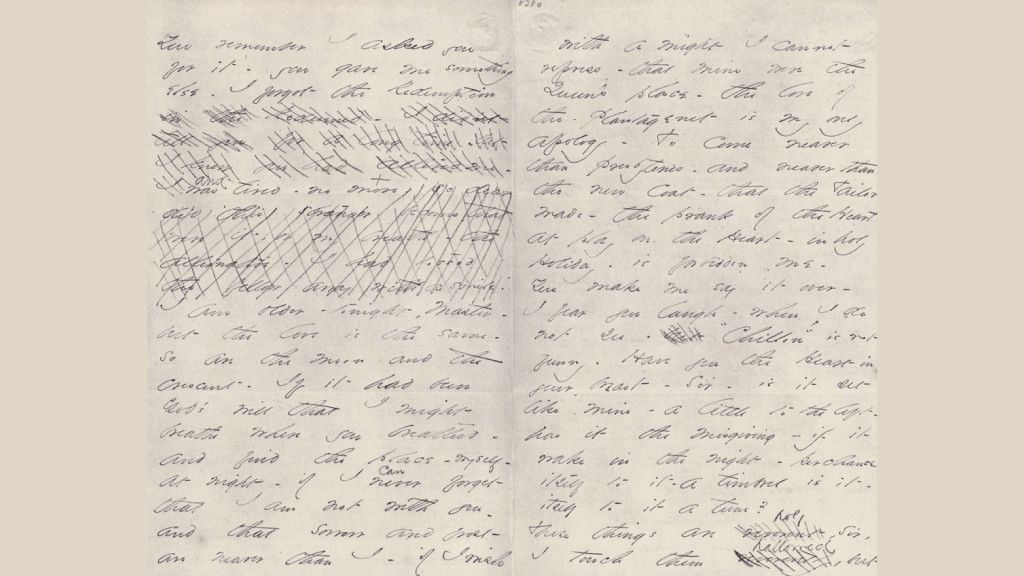 ---
I
I opted for the four minutes partly as a disaster mitigating strategy.
I'm here to talk about creativity but it could all go terribly wrong
Because normally my presenting style is clicking through slides, rapidly.
I would stalk around the stage and gesticulate and use clever Keynote builds and other slideware to keep your attention.
So I decided, with all these constraints, to be sure of my words, to write it down.
Because I just have this one slide. And it's barely legible.
Whoops.
First rule of presenting, make the font big.
Fail part one.
That's not my only problem.
I'm a poseur.
I'm not a designer.
I'm a writer.
I only discovered what a drop shadow was a few years ago when I wondered why my printed-out screenshots were black on the bottom.
And maybe my own design, of this talk, is no longer invisible.
'Oh, ' you're thinking, 'he's going to talk about how editing is invisible design'.
Fail part three.
Fuck.
II
Well, writing is invisible design, that's true.
Writers and designers, we're cousins.
We both use craft to build worlds.
Some of you who appreciate vintage advertising will remember the Think Small-era Volkswagen advertising.
The layout was classic, a photo, a headline, copy.
But the art director saw the copy, and it was just a huge mass at the bottom of the page. So he used his X-acto to thin it out.
When his partner came in, he asked him to re-write it into the windows he had cut, and the ad finally worked, and is now famous.
Jason Fried, from 37signals, once said, 'before you redesign, rewrite.'
This is fundamentally the same idea.
But there's one step beyond this invisibility, beyond the craft of writing and editing: making it magic.
III
For my money Emily Dickinson is the greatest American poet.
<What was that? Some Emerson partisan there in the back?>
Almost all Dickinson's 1,800 poems were published after she died, and they're all clean copies.
We don't know anything about her process; her craft was fully invisible.
And so scholars, trying to understand her work, are puzzled by things like this.
This is one of Dickinson's Master letters, surreal drafts written sometime between when she was 28 and 32.
They're otherworldly, almost an alternate universe to her poems, written to a figure only known as Master.
We don't know the identity of 'Master'.
It is a mystery.
Is it a lover?
God?
The Devil? Was Emily Dickinson involved in some kinda bluesman-at-Crossroads-type deal?
True Detective stuff.
Because we all want to know what kind of shadowy power lurks at the heart of Dickinson's art—worldly or otherworldly.
IV
To create something truly sublime, you have to include elements of magic, and conceal, and keep secrets—and reveal them, maybe—in addition to all the craft.
You've got to have some of that ol' Razzle Dazzle—at least a little bit.
Joseph Conrad wrote something to this effect in an essay called "Fiction Is Human History".
All creative art is magic, is evocation of the unseen in forms persuasive, enlightening, familiar and surprising.
In creating amazing work, you take the invisible and choose if, and how, it reappears.
And that's the magic…
reveal papers
…that craft can make design invisible…
reveal papers
…but only creativity can choose how to reveal it…
reveal papers
…to set an audience on a course to their own creative truths.
reveal papers