First Times mention?
"

Fly Fishing Guide"

November 27, 2013 ☼ Published Elsewhere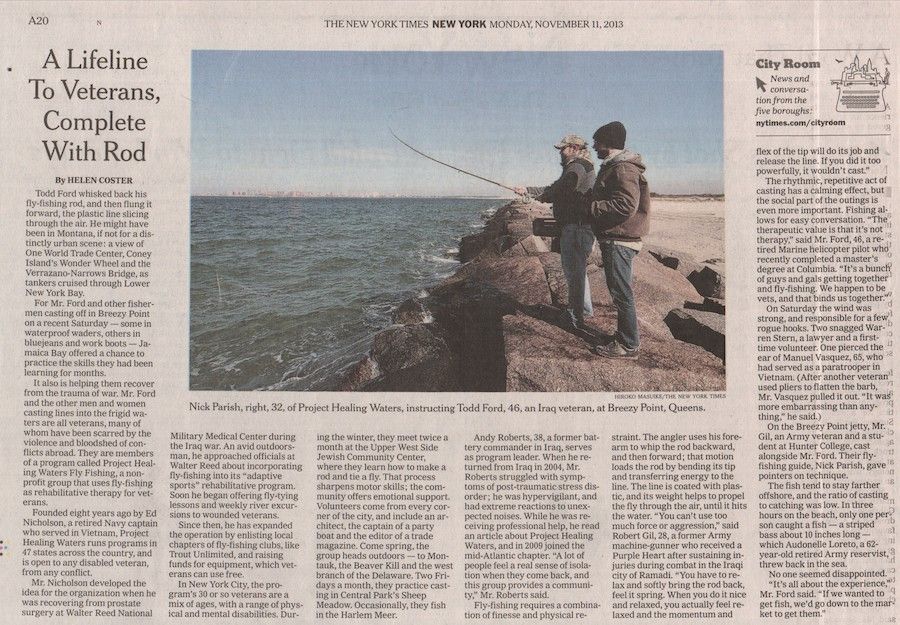 A scan from The New York Times' November 11th 2013 edition featuring Project Healing Waters
Well, that's exciting.
It was very exciting to see an organization I do some volunteer work with profiled by Helen Coster in The New York Times this year on Veterans Day. I would have never guessed the modifier that arrived along with my first appearance in the old grey lady would be "fly fishing guide," but I'll take it. I guess it's a good impetus to finally get my casting instructor certification in order.
Please give the article a read to learn more about the sort of work we're doing, and do get in touch if you're interested.
We've had a huge outpouring of support since, including a bunch of people donating vintage fishing gear, which we resell to collectors to fund trips for vets.
There's currently a great auction of vintage fiberglass and bamboo rods happening on eBay, from the collection of a man named Ed Travers. Ed's rods, all in great condition, would make a wonderful holiday gift for the angler in your life, and a great way to give back to a worthy cause, so why not check them out? I'm helping administer the auction, and will be posting new rods every Tuesday for the next few weeks, with five sets in all available.