Expiration Dates for Creative Companies
January 21, 2012 ☼ Advertising ☼ Art ☼ Design ☼ Music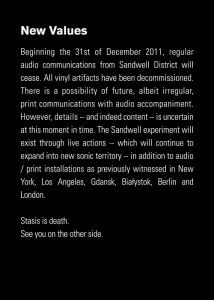 A few weeks ago, my favorite music act abruptly broke up. But it wasn't the standard faff from a band that's released a bunch of albums and toured forever, "we're having artistic difficulties," the cover for a junkie drummer or clashing egos. The group was cautious and enigmatic in the first place, and its decision to quit further cemented the realization no one would ever know the full story. The group is called Sandwell District, and it makes deep, dark, often abrasive hypnotic techno dance music, the sort of stuff that begins going through your head after your third day trapped in a well, I'd imagine, or when you've spent too much time on a tilt-a-whirl. Some of us, due to genetic programming or maybe many hours of social conditioning in dark rooms listening to loud music, think better with this sort of stuff pumping. I'm one of them. And Sandwell was certainly, to me, the most expressive and aesthetic-oriented group I've seen in dance music in some time. It had a formed artistic ethos much like Detroit collectives Underground Resistance or groups like Drexcyia, far from the personality-driven side of the dance music world. In short, Sandwell innovated, and will, in some form or another, continue, apart or together, to make amazing, provocative music. This essay isn't about Sandwell District, though if you want to find out more about it, its Tumblr is a good place to start , as is this piece from The Wire.
New Values
Beginning the 31st of December 2011, regular audio communication from Sandwell District will cease. All vinyl artifacts have been decommissioned. There is a possiblity of future, albeit irregular, print communications with audio accompaniment. However, details — and indeed content — is uncertain at this moment in time. The Sandwell experiment will exist through live actions — which will continue to expand into new sonic territory — in addition to audio / print installations as previously witnessed in New York, Los Angeles, Gdansk, Bialystok, Berlin and London.
Stasis is death.
See you on the other side.
So, you say, they're breaking up, but they're not stopping playing shows, and doing other 'print communications with audio accompaniment' — so what's the big deal?
Well, I know we haven't seen the last of Sandwell.
But what if we built our creative businesses, our design studios, our content companies, our  journalist's collectives, with a set of time-based values?
What if businesses had an expiration date?
Obviously, this repels much of the capitalist ideal. Once the company reaches its peak, then is the time when it's ripest for squeezing, a milking of profits that can continue, managed well, for some years.
If the participants were to agree to pack it in, and go their separate ways, after, say, three years, it would give no hope for investment, no hope for mechanisms of control that come with outside funding.
The best potential test case for this is a small design studio, with 3-5 partners. It is stated at the outset that this is a transient endeavor, meant to last three years, then everyone is released, the property liquidated, business cards tossed into the trash, web presence turned off.
Needless to say, it wouldn't work as well with businesses based on making artisanal salami or high-grade thermocouples.
[

]
In the Wire story, one member of Sandwell, Karl O'Connor, says, 'As we everything I have been involved with, it's about creating situations — some you go with, and some you abort. We hate this whole '20 years of so-and-so label' or '40 years of that label'. We know when things need to be killed or moved on.'
The 'we know' comes with a feeling of creative completeness, but a stated end point would set that feeling in stone, and force an arc higher and brighter than otherwise.
I often am able to connect the dots between people who have bonds to specific companies at specific periods, that is, they all worked at Company X during its heyday, and they all went on to places or things much more interesting than you would expect, given their relative lack of experience prior to Company X. There are a lot of factors at play here, like where Company X was in its life cycle already, or where the winds of novelty were blowing in its industry at the time, or the sort of work they were able to do  while together. But I believe companies with a stated half-life and a strong mission at the outset will create cadres of exceptional people.