The Contagious Holiday Zine Exchange!
December 17, 2013 ☼ Books ☼ Published Elsewhere ☼ Things I Finished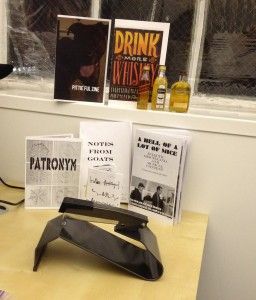 contagious_zines
A while back I read a post somewhere, I think on the IDEO blog, about their experiment with a saddle stapler. There was a story about how they furnished an alcove at the back of the office, and put out the stapler, commonly used to make crude staple-bound zines, and lo, amazing rainbows of creativity happened.
We ain't them, so I decided to steal part of this idea, with 100% more forced creativity, and lo the Contagious Holiday Zine Exchange was born. Everybody had a few months to conceive and execute a zine, using the tools at their disposal, and we'd swap them at the end of the year.
Counting our own issues of Contagious, Most Contagious, and all the the client-commissioned stuff, we made probably 10+ print publications this year. But not everyone has the chance to get dirty with pagination, design, concept and all the other fun parts of making their own magazine. Hell, I'm an editor and I don't feel like I always do.
I can't tell you how impressed I was when we exchanged them today. Writers, sales folk, whoever, it didn't matter. The publications were from the heart and fun, which is all you really need for a good zine.
Here's a quick rundown:
Noelle: Drink More Whiskey, a primer on everyone's favorite brown liquid, its characteristics and varieties, where to drink it, recipes, etc., with samples
Kyle: Pittie'ful Zine, a look at the pit bull terrier's origins, evolution and characteristics, including info on pits in American history
Erin: les hashtags en francais, a study of this year's top celebrity Twitter arrivals, with hashtagged critiques of their work in French
Arwa: Notes From Goats: A pun-filled literary magazine, as authored by goats (ie critique of The Great Goatsby)
Chris: A Hell of a Lot of Mice: Music and miscellany, including an article on Willis Earl Beal, photos from NYC venues and part of Chris' top 52 albums of 2013 summary.
I did a short sci-fi photonovela called PATRONYM on the JP Morgan of the clone era coming to terms with his legacy.
Methods as far ranging as In Design and Comic Life and even old fashioned cut-and-paste and hand-lettering brought these to life.
Best of all, they really did what every good solo publication should do: convey something about the creator.
I was having lunch today with a guy who runs the innovation department at a really large package goods company, and one of the things he said stuck in my mind. "We have the tools," he said, "we just don't use them." Sometimes you have to figure out a way to get people to use the tools.