A Resurrection From Cannes
July 5, 2010 ☼ Advertising ☼ Events ☼ Journalism ☼ Published Elsewhere ☼ Technology
The organizers of the Cannes Lions International Advertising Festival's Lions Daily newsmagazine were looking for the U.S. perspective on emerging industry trends for this year's festival in June, and asked me to write an article. Enjoy.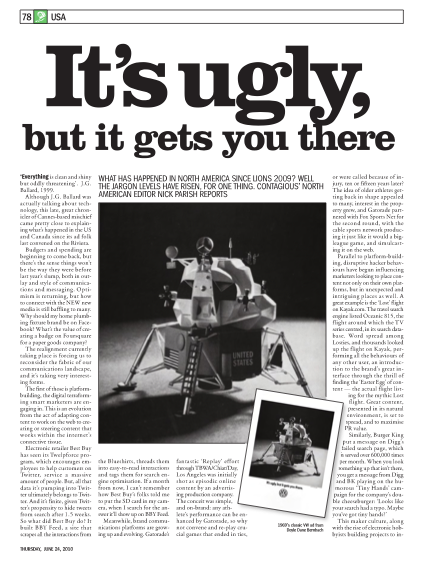 Everything is clean and shiny but oddly threatening. - J.G. Ballard, 1999
Although J.G. Ballard was actually talking about technology, this late, great chronicler of Cannes-based mischief came pretty close to explaining what's happened in the United States and Canada since its ad folk last convened on the Riviera.
Budgets and spending are beginning to come back, but there's the sense things won't be the way they were before last year's slump, both in outlay and style of communications and messaging. Optimism is returning, but how to connect with the NEW new media is still baffling to many. Why should my home plumbing fixture brand be on Facebook? What's the value of creating a badge on Foursquare for a paper goods company?
The realignment currently taking place is forcing us to reconsider the fabric of our communications landscape, and it's taking very interesting forms.
FINELY FORMED PLATFORMS /
The first of those is platform-building, the digital terraforming smart marketers are engaging in. This is an evolution from the act of adapting content to work on the web to creating or steering content that works within the Internet's connective tissue.
Electronic retailer Best Buy has seen its Twelpforce program, which encourages employees to help customers on Twitter, service a massive amount of people. But, all that data it's pumping into Twitter ultimately belongs to Twitter. And it's finite, given Twitter's propensity to hide tweets from search after 1.5 weeks. So what did Best Buy do? It built BBY Feed, a site that scrapes all the interactions from the Blueshirts, threads them into easy-to-read interactions and tags them for search engine optimization. If a month from now, I can't remember how Best Buy's folks told me to put the SD card in my camera, when I search for the answer it'll show up on BBY Feed.
Meanwhile, brand communications platforms are growing up and evolving. Gatorade's fantastic 'Replay' effort through TBWA/Chiat/Day, Los Angeles was initially shot as episodic online content by an advertising production company. The conceit was simple, and on-brand: any athlete's performance can be enhanced by Gatorade, so why not convene and re-play crucial games that ended in ties, or were called because of injury, ten or fifteen years later? The idea of older athletes getting back in shape appealed to many, interest in the property grew, and Gatorade partnered with Fox Sports Net for the second round, with the cable sports network producing it just like it would a big-league game, and simulcasting it on the web.
Parallel to platform-building, disruptive hacker behaviours have begun influencing marketers looking to place content not only on their own platforms, but in unexpected and intriguing places as well. A great example is the 'Lost' flight on Kayak.com. The travel search engine listed Oceanic 815, the flight around which the TV series centred, in its search database. Word spread among Losties, and thousands looked up the flight on Kayak, performing all the behaviours of any other user, an introduction to the brand's great interface through the thrill of finding the 'Easter Egg' of content—the actual flight listing for the mythic Lost flight. Great content, presented in its natural environment, is set to spread, and to maximize PR value.
Similarly, Burger King put a message on Digg's failed search page, which is served over 600,000 times per month. When you look something up that isn't there, you get a message from Digg and BK playing on the humorous 'Tiny Hands' campaign for the company's double cheeseburger: 'Looks like your search had a typo. Maybe you've got tiny hands?'
MAKER CULTURE & LASHED-TOGETHER TECH /
This maker culture, along with the rise of electronic hobbyists building projects to interact with the universe, places emphasis on solutions and speed, in the classic Bernbachian sense of 'It's ugly, but it gets you there'.
In fact, just over forty years after the moon landing and that classic piece of Volkswagen print, Nike and the Livestrong Foundation's Chalkbot, from Wieden + Kennedy and the robot-making punk rockers at Pittsburgh's Deeplocal, fits the tagline–the trailer-pulled robot sets a standard for the post-digital transition in its employment of 'guttertech'–using the lowest available technology to solve the problem. The robot, towed along the route of the Tour de France, sprays messages of cancer support and memoriam people have tweeted onto the course. The system then takes a photo, geotags it, and sends it back to the participant on the other end of the connection. Chalkbot's no-frills, simple-yet-elegant setup and movement through digital and physical elements nimbly skitters like Wall-E around a landscape where tech bandwagon-jumping is in danger of creating a proliferation of clutter and junk.
The sensor array in our smartphones is currently the fastest track to bringing about the 'internet of things' — the practice of integrating digital capabilities to the most ordinary of objects. Ranchers are using RFID to track beef from pasture to abattoir and researchers at the Asthmapolis project are using GPS-triggering asthma inhalers to learn more about pollutants, and all are contributing to the proliferation of data. The objects around us are becoming networked, either through built-in communication hardware or software elements fitted on top.
MASSAGING THE DATALAYER /
A company called Stickybits, which had its coming out party this year at the South by Southwest Interactive conference, allows you to add content–a video, a comment, a photo–to any barcode scanned with its app. Essentially the company has turned every barcode-carrying product into a media node.
Keep an eye peeled this week for Contagious' special Stickybits treasure hunt, centered on our Issue 23 cover (which you can scan from the illustration here), and has Euro RSCG London's new Dulux spot attached to it. Find the pink bits around town this week, scan them with your Stickybits app, and win Contagious prizes.
While our Stickybit challenge is but a small example, building games is, to me, the most exciting element of future-facing marketing efforts.
Think of the devotion a good videogame commands: players often log days at quests, or facing rivals online. And unlike a film, or a magazine, the hefty price you pay for a console game doesn't even guarantee you get to experience all the content–you have to be patient, persist, and earn the ending.
THE POINTS ECOLOGY /
Location-based services like Gowalla and Loopt and Foursquare represent a simple employment of game motivations using the sensors we carry. Get the most points. Be seen the best places. Unlock achievements.
Ultimately, brands are developing new ways to register loyalty and reward people choosing them, while enticing possible conversions from nearby consumers–nearby both in physical location and adjoining mental space (think of a hairdresser who promotes on check-ins at the beauty supply store).
Will location-based service companies wind up being overgrown, social-enabled supermarket points schemes? No one can tell yet. But as the unique user behaviour, the check-in, the acknowledgement of presence in a space-time-byte matrix, spreads and becomes more familiar, and our sensor-augmented actions begin to throw off more and more data, the smartest marketers will be engineering access to it, and in turn creating experiences and narratives all the more relevant.
Returning to Mr. Ballard's quote, there's good reason for these shiny things to feel threatening. The firmaments of this business are shifting, and we can't see where they'll settle yet. But without threat, we drift to complacency. Now is the time, more than ever, to re-examine what is useful, relevant and entertaining as the world keeps turning.