Coming Home to a Company Town
January 24, 2012 ☼ Advertising ☼ Design ☼ Detroit ☼ Events ☼ Journalism ☼ Technology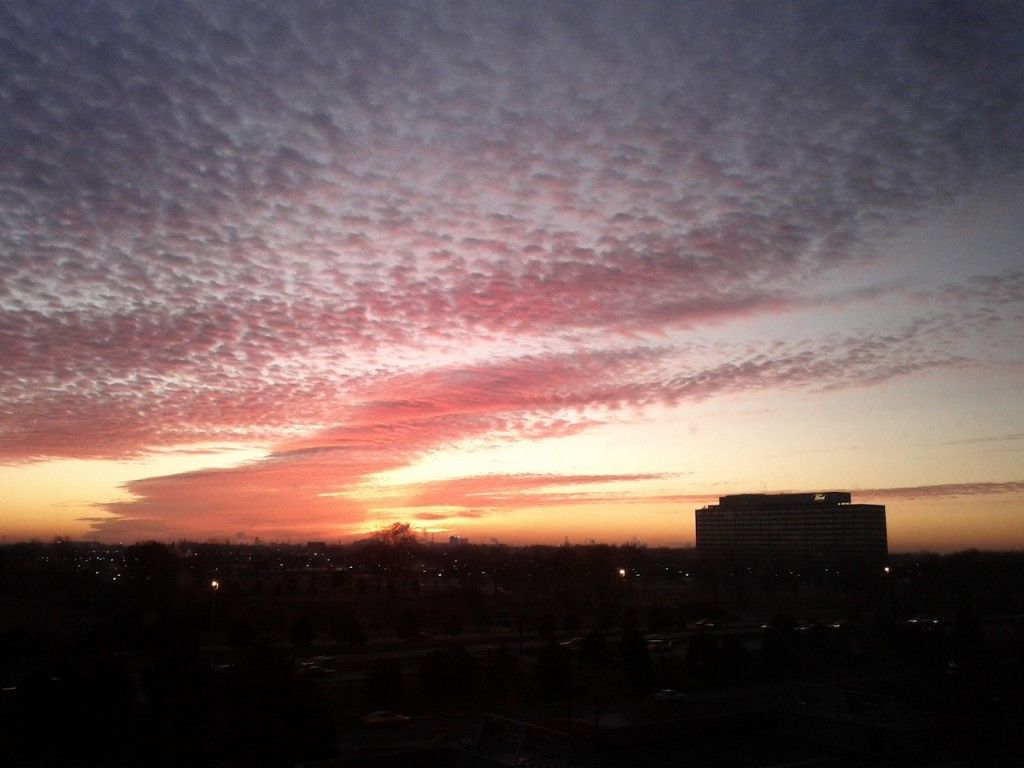 I recently had the chance to head home on the dime of the Ford Motor Company, the great dynamo and historical symbol of prestige in the Motor City, or at very least its suburban birthplace in Dearborn. I got invited, I imagined, because we've covered the company's efforts in the past. But now I found myself on a press trip home, to get sold on the innovation I grew up around, for Ford's North American Auto Show & Innovation and Design Fantasy Camp. If that's not enough of a mouthful, here's a rambling travelogue of what we got up to.
I took a car from the airport, and what can typically be a terse ride wound up moving quickly. One of the best things about talking cars with a Detroiter is that if you do it on the road, you have a constant source of conversation. My driver, an arabic guy in his mid-50s, was eager to chat. We talked about the driver's Lincoln Town Car, a car that's come to equal classy luxury transportation. We talked about what might replace it, now that Ford's shut down the Canadian plants that produced it along with the Crown Victoria, cop car par excellence. ((The Town Car remains a weathered peak of luxury transportation for many, despite the changes in driver preference and civic fuel consumption standards Ford cited as its reasons for termination. I love the Town Car. Since the late '90s, it's been the longest car produced in the Western Hemisphere. My dad once told me it was designed to be able to carry four golf bags in its trunk, ferrying a foursome of chums to the links, where some real business can get done.))
We moved to the Chevy Volt (he's never seen one around) the Prius (he's seen plenty and likes 'em) and the changing American automobile appetite. I went to mention the new Fiat, and lo and behold we were passing one. "Italian design, it looks nice. Good for single people, maybe?" Then, the Dodge Charger. "It's taken away a little from those guys," he said, pointing to a Mustang. (See? It's fun, it's like I Spy crossed with the game where you move through the alphabet and say a different celebrity, or movie star, for every letter.) Toyota's Avalon swung in front of us, and he remarked on its quality, being a former owner. He said the auto show, this year, would be a more positive affair, with the Big Three stronger than in previous years, a leaner and meaner American auto industry.
Earlier that day the Detroit Free Press had named Chrysler's CEO Sergio Marchionne the winner in the "Executive Leadership" category in its inaugural Automotive Leadership Awards, "honoring outstanding individual and organizational achievements from the industry." Marchionne has a Steve Jobs-style wardrobe tic that endears him to the media. He's always wearing a black sweater and an oxford shirt with dress trousers; never a suit, never a tie. He smokes a lot of cigarettes. He's brash. The main image in the Free Press' article announcing his victory in their contest has him framed at Chrysler's Auburn Hills HQ against a poster on the wall that says 'Give a Shit'.
As we arrived I thought, Was this the last Town Car I'd ride in in Detroit? I asked what kind of payment he took, and what was best, credit or cash, probably because I've been conditioned by surly New York cabbies. He laughed. "We're broke! We'll take anything!"
I mostly wanted to come on this trip because I grew up going to the auto show. Ford was a heavy presence in my early life. My dad worked in the auto industry, and every year he'd get tickets to the show. We'd wander around the floor, amazed at the new models of cars. At home, I'd read beautiful glossy brochures from exotic manufacturers like Porsche, after inspecting and touching and smelling its cars right there in Cobo Hall.
And now I'm a few feet from the nexus of it all — across the Southfield Freeway from Ford's world headquarters, at an ex-Ritz Carlton renamed The Henry, its slightly scuffed luxury intended, like many of the faded glories of this town, to serve the high-powered people in the car business.
I spent a lot of time within a mile or so of this place. Summer meant swimming at the Fairlane Club, a pseudo-country club a few blocks away, where my dad had to entertain Ford clients. My sister and I charged french fries to the family account and felt mildly reckless eating them at the poolside restaurant, toes still stinging from hours spent scraping along the bottom of the pool as we played. Friends still live in Dearborn. It's a good town to raise a family, and is a great example of the cultural levelling power of the Midwest. Go watch an episode of American Muslim if you don't believe me.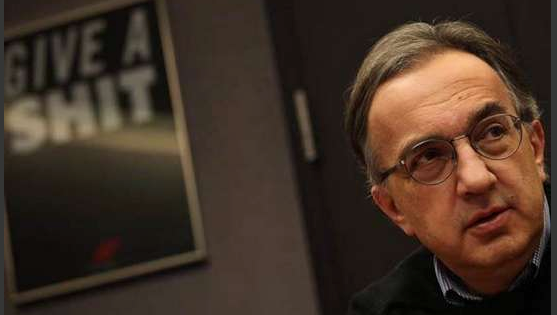 sergio marchionne
I had been emailing a friend who works as a journalist in the auto industry. I knew he'd frown on these sort of junkets, but I asked anyway: 'Any idea of what I can expect?'
"Two words: mom bloggers," was his reply. I was a little surprised at that, but in its broadest definition, I understood the label. Without disparaging mom bloggers too fully (I know there are many which are above-the-board enough to maintain standards of decency and integrity which may put to shame those with much more experience in publishing) I understood his remark as describing a group of bloggers — not necessarily blogging about motherhood issues at all, though they seem to be the most powerful topic — which runs on personal anecdote, PR-generated coverage, reviewing products, chastising those that don't cut the mustard and occasionally manufacturing outrage.
It's been interesting to watch their rise, because smart corporations have pushed to gain their endorsements on everything under the sun. Good blogging creates feelings of personal bonds between reader and blogger, and despite thousands of new delivery mechanisms for advertising messaging, nothing's supplanted your friend's opinion on a product. They're a kind of necessary evil, fueled in part by display advertising and the attention of marketers. And, of course, of the need for trusted opinion and dialogue in all sorts of niche spaces.
Will this be a horrifying circle-jerk, a loop of self-congratulation, hyperbole, and facile retransmission? Would it be best to be one of the pack, or should I think about how Ford's running its influencer program, how it's elevating these 150 bloggers, out of the 5,000 members of the media attending the auto show? I checked the hash tag (#fordnaias) and found it already filling out, and almost couldn't bear to participate. ((The Twitter profile is the key form of expression for a social media conqueror. Some read like personal ads, some read like statements of intent. I will characterize/bowdlerize them thus, from the first to begin emitting messages over the weekend:
What's now in Fashion, Fame, Technology & LIVING! We've got everything from today, tomorrow and the future!!! www.GodsandGeeks.com
Custom products to live a righteous path, from eco-conscious familyhood to tech to staying on top of clutter!
I love everything eco-friendly, good for you, organic and pure. Raising my 4 kids vegan/no oil with occasional fish breaks, blogging, Marketing on the Internet.
GREEN ADVOCATE / INTERNET MARKETING CONSULTANT / MOM TO THREE BOYS / LIVING THE ECO LIFE CHALLENGE / ENJOYS SCHUBERT / LIVE LIKE A QUEEN
#green #marketing #trends mom to six, yoga, cooking, #UGconnections #mobile #happy cook, eat, love #atheist #technology #tech #web2))
Maybe I wouldn't have a lot in common with many of the folks on the trip. Using the tried-and-true journalist's method of evaluating a crowd of peers for potential career advancement, I wouldn't be likely to get an assignment from any of them. But there was no need to be a smug asshole about it, which was territory I was already creeping into. I've never managed a big blog, with all the commitment and dedication that takes. I've got nothing like an audience, just an itinerant trail through niches most people don't care about, with a poorly-maintained storehouse of clips running some ancient version of WordPress. What was I even doing on this trip, I wondered? Maybe I had written a snappy enough Twitter bio?
Ending my self-appraisal, I went through the materials we were given when we arrived. At the end of the information packet, there's an appendix on transparency. Here it is:
Transparency and Disclosure
Ford adheres to guidelines laid out by the U.S. Federal Trade Commission and the Word of Mouth Marketing Association. Please see our guidelines for working with digital influencers at http://scr.bi/fordbloggers. We ask that you be transparent with your readers about your trip to Detroit and post the following disclosure language, or something similar in your own words:
Ford Motor Company paid for my travel and accommodations at the 2-day Innovation and Design Fantasy Camp event, I was not compensated in any other manner for my time. My opinions posted here are my own.
And there you have it.
Meanwhile, the Giants rolled up the Falcons, Tim Tebow carried the Broncos to another promised land, and we embarked on our first event of the trip, a group dinner at the Henry Ford Museum.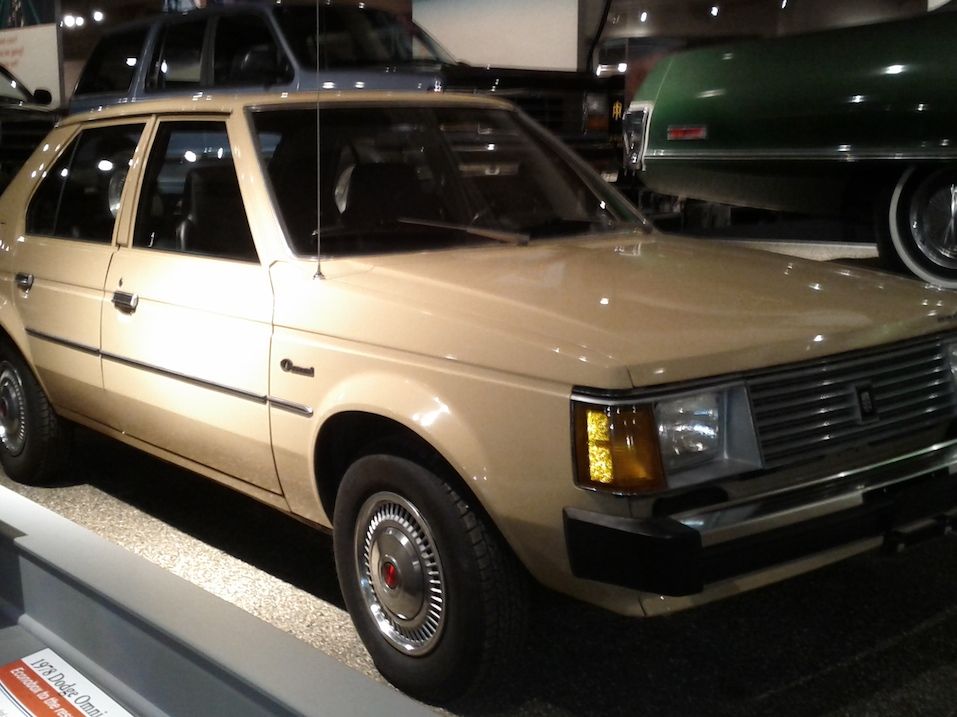 'Yes! In Seoul! I thought you looked familiar!' It has begun. The reconvening of what feels to me to be a society of folks who court web traffic for freebies.
The best part about being with a group like this is you can max out a normally socially awkward behavior, hiding behind your phone screen, because that's pretty much what everyone does. They're drafting posts, or tweeting, or staying in touch with others. So I peck away relentlessly at my BlackBerry and occasionally bring out my smartphone to surf or update or take photos.
As we arrive at the museum for dinner, a Canadian delegation is meeting its constituents, waving the maple leaf flags, wearing national hockey jerseys, and giving out pins for the group members to wear and identify each other. ((The Canadian pin collecting hobby is fascinating. A friend covered the Torino Olympics for a Canadian paper and sat on the plane next to a pin hound, who slipped him a few to get him started. He wound up trading one for what was essentially a backstage pass for the entire games. I'm not sure if these Ford ones will be as strong a currency.))
Before dinner, we could walk the halls of the museum, and see a timeline of cars. We had early access to its latest exhibit, Driving America. Growing up, the museum was famous for one thing: the Lincoln chair. The chair where Lincoln was shot, in Ford's Theatre, (no relation) had a ghastly bloodstain over most of its top corner, making it the prime attraction for any young boys here on a school trip. But the museum also had a Smithsonian-like reach: it held the bus Rosa Parks defied segregation on, for example, and a large collection of presidential limousines, including the Lincoln Continental, code-named X-100, that Kennedy was shot in. ((When I arrived to see it, an Asian guy was composing a photo on a grandiose SLR rig. 'Be sure to get the right angle,' I told him. 'Back, and to the left.' I have aged almost 20 years since last visit, but my interest remains morbid. And it was, sadly, a wasted joke. We were told over 16 countries were represented, and his didn't have a high enough cultural penetration of Oliver Stone's JFK.  They did have pieces of paper you could rub with a crayon to get an impression of the car as a souvenir. I consoled myself with one of these.))
I lingered for a while at the Dodge Omni. People walked by and chuckled at it, but it's another in my hall of fame. It's a good object of derision: a retro shitbox, one of our first tiny cars. But I've always loved the Omni: my mom had one when we were kids, and its the first car I remember riding in. And there seems to be something totally appropriate in the tiny display devoted to the gas crunch and the rise of econoboxes and people riding bikes. We're headed back that way.
The cross-cultural melee continued at dinner, where I'm seated with a group of three Chinese, two Quebecers and two other folks from New York. The first question to one of the Chinese bloggers? "Is it hard to be a Chinese blogger, in China?"
Turns out there weren't just mommy bloggers — there were daddy bloggers too. And people who run blogs on green technology, and jewelry design, and fashion, and all sorts of things. They weren't uninteresting, and didn't all make foolish conversation. (Though this was another gem: "Do you have to invite someone to play, or can you just play by yourself? I guess that's why its called words with friends!") I awarded one woman from Montreal the day's bravery award after she told the story of how she took the bus from downtown Detroit to Dearborn earlier that day. Detroit's medieval public transit system, SMART, is typically a last-chance option for those too poor, too convicted or too unstable to be able to drive. Relying on public transportation in Metro Detroit is one of the strangest forms of alienation America knows.
Relying on public transportation in Metro Detroit is one of the strangest forms of alienation America knows.
Our hosts say a word or two, then usher in Paul Mascarenas, Ford's chief technical officer. A younger Malcolm McDowell would have played him in the movie of Ford's turnaround. (Still being shopped to studios.) Mascarenas talks about the newly opened Palo Alto lab near Stanford, which will allow Ford to continue relationships with Apple and Google. The speech begins to float by, and I turn concentration to the buffet dinner. Mascarenas gives way to another Ford employee, who refers to improving fuel economy as "not just a science project for the rich," which is enough of a choke-on-your-tenderloin moment for me to note.
Wandering around the exhibit during dessert, I talk to an exhibition designer with the museum who helped create the River Rouge Factory Tour, where visitors can walk through the plant while F-150 trucks are assembled. The plant was idle for several months during the depths of the economic downturn, but it stayed open, even though visitors would only be seeing an idle factory. The narrative, at that point, completely shifted, to the vast economic consequences of the slowdown.
That night, the iron at The Henry sounds like the maneuvering jets on a spacesuit as I move it across my shirt for the next day. It vaporizes wrinkles with its steam power. The power of innovation. I want to buy this exact model, the pinnacle of irons. I am high on technology. Then, an abrupt sputtering. The iron's circuit board has fried.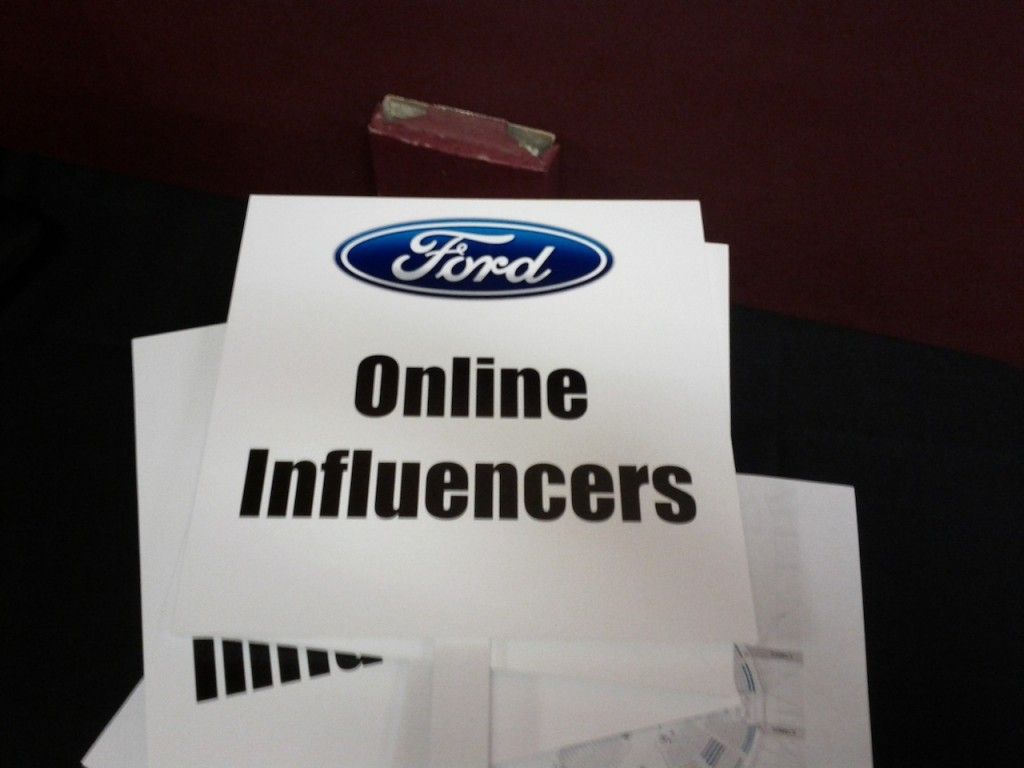 Someone deserves a prize for the logistic triumph of getting all 150 of us out of the hotel by 6:30 a.m. the next morning. But there we are, loading into the buses to get down to Cobo Hall, scene of the auto show and Ford's much-anticipated press conference.
On the ride down, I talked with a guy from New Jersey who runs a website on art. Apparently, it's not his main endeavor, but he didn't elaborate much further, and when I asked him if he came into Manhattan much to go to museums I might as well have been inquiring if he had recently had a colonic irrigation. He was also overly emphatic that he had never come on a trip like this before.
It seemed, apart from those who had no idea what they were doing on the trip, like my seat mate and I, that there was a split between the people who were down there for business and for fun. Some were planning news gathering, what they were going to be covering, what interviews with execs they had lined up, who was shooting what and where. Others were all about the fun and networking. Despite the early morning wake up, a solo attendee continued blanket introductions to anyone she deemed worthy. The group had been together less than 12 hours and I'd heard her opening spiel seven times.
Finally, on the way to the press conference, I meet a true enthusiast. Michael from Tampa is into street tuning, and has written for several highly-trafficked nearly-content-mill style sites. We talked about strapping on absurdly large turbochargers onto Subarus. ((He sold his highly-tricked WRX to a Cuban whose visa was expiring; the guy thrashed it for three weeks until the engine blew out, and, with no regrets, sold it back to Michael for $10,000 less than he bought it for and went home.)) We don't get far before we've wandered through the convention center's bowels and into Joe Louis Arena, where the Red Wings play, and where Ford's holding its press conference. Michael was awestruck. The arena was set in a sort of mock-Gladiator style, with Ford's deep blue lighting and logo looming large.
Bill Clay Ford, Jr. is first into the arena, to talk about his grandfather's legacy of democratized technology and what it means for the future. According to him, it's hitting the right notes as a population becomes more urban, incorporating green elements, giving more people access to mobility, and, in general bringing freedom and progress and making more people's lives better. These are common themes to BCF, Jr. He's spent a lot of the family fortune thinking beyond the next model year. Here and now, he knows the answer to the future of global mobility isn't a mid-sized sedan. But today, for Ford, it definitely is. A fuel-efficient, sleek, luxury-tinged sedan to beat the piss out of Camry and Accord.
His speech was ringing with Jobs-isms, with him stating the company's goal is to "make people's lives better by using ingenuity," a Jobs-ian notion if there ever was one. If you gave me an iTunes download for every executive who had a New Year's Resolution to "Be More like Apple".. But I wonder what gives Ford the right to talk this way? What is its iPad? Meanwhile, in further Jobs-watch, Sergio Marchionne was reported by the Detroit Free Press automotive section's Twitter account to be growing a beard. "Think Springsteen from the Born to Run album."
After a series of introductions and videos showing Ford's support for workers and troops and everyone in between, the cars arrive. Through dry ice and smoke, red and white Fusions pull around the ring, do a lap, pause on rotating platforms while they're introduced and their stats are toted. I can see why this was the one part of the show the organizers of my trip were adamant we see. These cars look sharp. And even if the glitz-bomb and mega-rally energy has no effect, the mom bloggers are surely able to put positive influence and pressure on the mid-size sedan market, which integral in Ford making its Fusion a success.
I paid a visit to the media center, where the real press (including high-tier bloggers!) toil. Like many trade show press centers, journalists are allotted small stalls where they can do their work, with internet connections and placards telling of their affiliations. I stopped by to see a friend who works full time on a major national paper's automobile blog, and let him know of my trip, and what we're up to. He introduces me to his colleagues as a technology writer who actually happens to know the difference between a supercharger and a turbocharger
"You could lick the plastic and get high"
I explained to them why I'm in Detroit, and how I've been lumped in with a group that seems to not be interested in cars very much at all. They respond with a profound gulf of noiseless cynicism. I am, after all, a dilettante in a world that values nothing more than strict comprehension, detailed knowledge, and some info to trade on the intrigue at the top. It's about the execs, and the politics, as much as the cars. I have none of this. Knowing the difference between a supercharger and a turbocharger is nothing if you don't have the juice. I ran into a few more friends who are in the auto industry, but actually cared enough to explain things to me. Gurus. We walked around and talked about the autos on display, went through the various changes and things I'd been wondering. Marchionne's so popular, they said, because the auto world is still dominated by white American males, the most basic unit of business over the last hundred or so years. There are no Chinese automakers present because the quality standards are far from anything acceptable here. "You could lick the plastic and get high."
Ford, they say, is doing well in its international offerings — the cars are beginning to look and perform similarly across the globe — but not in some others. Ford's main connected car infomatics platform, SYNC/My Ford Touch has come under fire for its poor usability, and even cost the company its 'Recommended' rating from Consumer Reports. It failed to recommend the Lincoln MKX and Ford Edge in early 2011, citing overly complicated, technology-enabled dashboards as the culprit.
Back through the bowels at the blogger center as the day wraps up, a woman sitting next to me was fretting about her WordPress community plugin. She had launched a whole new blog today, and that part wasn't working. I know enough about WordPress plugins to know that a banquet room at Cobo Arena probably isn't the right place to troubleshoot one effectively, and I let her know I couldn't really help her. But I remembered the elitist attitude members of the journalism fraternity affected, and could never imagine one of them asking another, a perfect stranger for help with something so befuddling as web infrastructure. They had specialized themselves far from this, and these people with multiple capabilities, who lived out much of their days on the web were more of what I had become, too.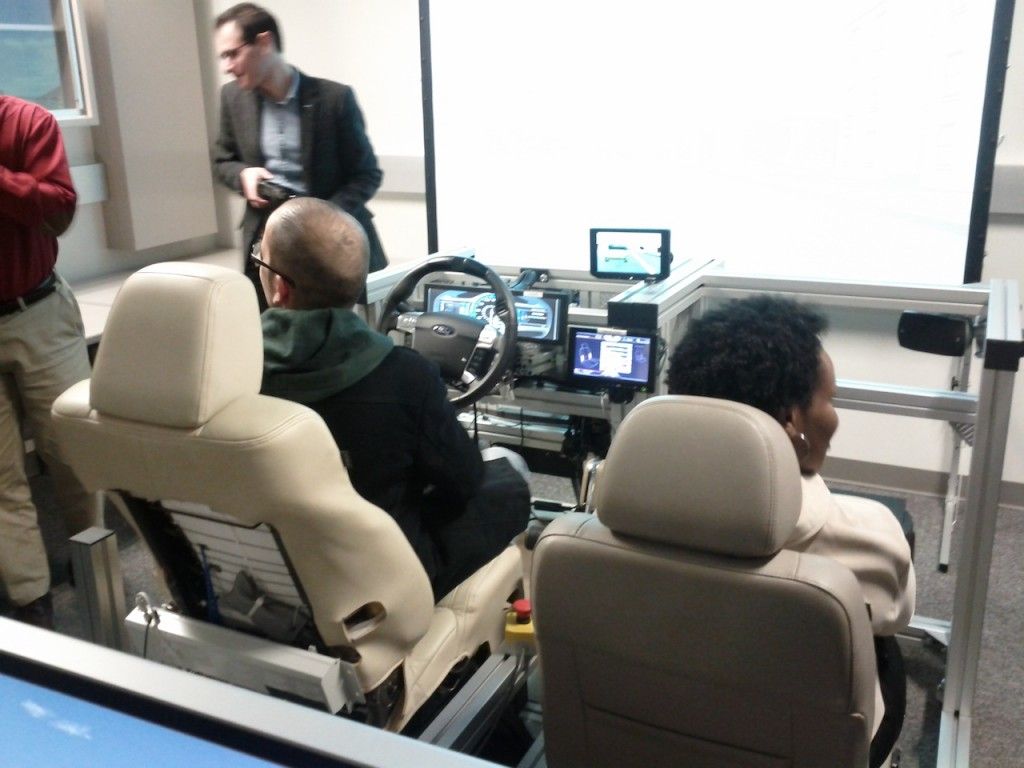 Dinner that night took place at Ford world headquarters, in a wood-trimmed banquet room where it could be surmised many company executives saw their careers handed to them as a gold watch and the compulsion to check Ford's share price as their retirement nut fluctuated. After dinner, attendees gave Ignite presentations, PowerPoint talks with precise rules (five minutes; slides automatically advance every fifteen seconds) to make them exciting enough for dinner audiences. This can lead to brilliance, or, in some cases, spectacular flameouts. There were just a few of the latter. Most were impressive. One guy talked about his project, building a '68 Mustang entirely out of paper (Yes, to scale. The first tire took him three months.)  Another detailed cut throat Scrabble strategies. At the end, Scott Monty, Ford's head of social media, and the driving force behind its efforts in these areas — pretty much the reason we all were there — congratulated the crowd on the metrics associated with their day; most notably, 'share of voice' for the Ford Fusion increased 9.5% to 55%, with our help. His topic was something to the tune of 'How Sherlock Holmes would use Social Media'.
As we wandered back to the buses, we passed the tiny employee shoe repair stand, and the gift shop where all flavor of Ford apparel and items presented themselves. ((The proverbial company store might be Ford dealerships, where employees are routinely encouraged into new vehicles, probably more than necessary. In the Detroit area, Ford commercials carry price tags at the end, but they're typically not the price you or I would pay; they're prices for people on the company plans. A/Z plans are for employees, current or retired, on the first year or so of layoff, their families (including same-sex domestic partners). Dealership employees get the same deal sort of deal, with different discounts, under plan D. Employees of Ford partners–a fairly liberal definition, including friends, or neighbors, get the X plan. I was always baffled at this. It felt like they were trying to sell the cars to the employees, who should want them more than anything already, because they're seemingly so hemmed into the mythmaking. Obviously small, nonsensical things, yes, but to me, the advertising should be designed to convince people who don't drive Fords to make the switch.)) I was reminded walking past the gift shop of how the company still sees itself, in its Dearborn seat of power, as a close-knit family. It showed through. The next morning, we were served by members of the same catering staff, despite the event, a panel discussion, taking place in a different part of the campus a mile away. This was another one of those great little touches.
We were in the Research and Engineering Center, built in 1953, the showroom where new vehicles have made their debut to management. It was suitably woody and high, more like a suburban church with tidy industrial flooring than a place of corporate appraisals, show ring for manufactured goods.
A panel of uber-influencers was convened from guests not part of the normal trip, including several distinguished website founders and a token Ford designer. The talk slid over concepts like creativity and inspiration, but failed to take hold on any interesting ideas. It was the opposite of intimate; like a group reading a list of emergency supplies in the round to a half-full high school cafeteria. Nevertheless, the group dutifully parroted what was said on the panel, posting short quips on Twitter, even as what was said on the panel was that it was integral to take time and reflect and not be constantly emitting media bits.
You can tell a lot by how someone confronts the world with an avenging hangover. Many people on the trip spent time in the hotel bar until the early hours, and it showed the next day. Sluggish and moody gave way to overtired and restless. I consider this to be a major point of difference to traditional journalists. I've seen pro journos break professional kayfabe and turn into rampaging demons, shaming themselves to the bone after a few strenuous days of this sort of thing, but they always managed to compose themselves and suffer in silence the next day. In this case, there were lots of grumpy, pouty faces. Somehow, in this case, those who bore it the worst were inevitably Canadian.
We began to subdivide into groups for tours of the research and design facilities. Those with red bands were bussed to the technical areas first. White bands stayed and did design, but were further split into blue, red and green dot groups. Manufacturing efficiency feels rather comforting. The white-band-green-dots, my group, gets to go to the clay modeling lab first. This was my biggest point of interest. Most parts of the mechanics of automaking are in constant struggle against automation. Robots began replacing people years ago, but the idea of piling clay onto a frame and making sweeps of handmade tools to change the lines seems to defy logic.
The workers at the clay modelling group are probably my favorite type of designers. They're on the craftsman side of the spectrum. If they sit at the left, the high aesthete graphic designer is the opposite, on the right. The best example came early, when we were told about the two-foot-thick baseline metal plane that sits below the model. The model, known as a buck, has to be absolutely flat to allow the shaping machines to put the first layers on the model. Every year the plane is certified to be within thousands of an inch true. 'If you were to cover the whole world in this plate, the world would be flat.' This is not the sort of joke the aesthete-type of designer would ever think to make.
It's all about the highlights, we're told, how the light hits things. Clay is the best material because it can change. We get to feel the hot clay, and try out molding it onto some of the smaller-scale unused bucks. A few minutes with the tools and the surfaces and you realize how incredibly precise their job must be. On the way out, I chat with the manager, who mentions he's been in the shop for 20 years. ((Turns out he knew a friend of my father's, Charlie, a lovable old goat who spent most of his life in the modeling rooms here and now is a member of our fly fishing club. I've fished with Charlie quite a bit, and his attention to detail is almost self-inhibiting, like an autoimmune disease. Once, our club toured a famous rod maker's factory, and they casually mentioned Charlie. The tour guide blanched, verified Charlie's identity, and was only relieved when told Charlie wasn't on the tour. At every station during the tour, the guide mentioned this group knew Charlie, who had become almost a celebrity customer because he demanded to talk to and understand every single aspect of the production process, and all his options, and all the tiny details that went into constructing his rod before he laid out his money for it. For better or worse, these are the personalities that thrive in environments like Ford's.))
We moved to a theatre-style space, where digital designs of cars were debuted for executives. A graphic showed how three massive screens at the front were the equivalent to 50 HD televisions in pixel width. Over a thousand computers comprised a render farm to generate marketing content, and studio animations. Cars and trucks can be placed in any position, any background, and be endlessly tweaked. The renderings are hyperreal. The lead designer of the Fusion, an ex-Porsche designer, was on hand, and I asked him how it felt to see the car in the flesh for the first time, having spent so many hours with it as a digital rendering. He described feeling overwhelmed, and he exhibited the strange, infectious passion that creative people exude when they describe long, difficult projects.
One area where we stopped had a buck that tested the human-machine interaction, how easy it was to deal with the various navigational elements, adjust the climate control, play with the radio, while you drove. An engineer gave a brief demonstration of using voice commands to adjust the massaging functions of the seatback. It worked on the third try. He had a buck set up with a driver and a passenger and a projected simulation of an Anytown, USA scenario where all the lights were green. This was the closest we came to driving a car over the trip, and the two people who jumped in the car, boy in the driver's seat, girl in the passenger, were excited. The boy didn't even have a driver's license, but he hoped to drive the simulator. After piloting it for a few seconds, he asked for permission to crash. It was granted, and most of the audience shouted and laughed as he tried to apply physics to the simulation, eventually causing a tiny recalibration of the program that placed him back on the road.
Later, Ford's celebrated chief designer and creative officer J Mays stopped by to say hello, and a few things about Ford. Mays was responsible for the New Beetle at Volkswagen, which debuted in 1994, one of the last times I had been to the NAIAS. He made a remark about the sulfur in the clay of the modelling room: "Don't worry: sulfur won't make your fingers fall off." But the guys in the modelling room had told us earlier in the day they hadn't used sulfur for some years.
Mays was a specialist among specialists; he may not have gotten his hands dirty in the clay room for a while but he represented what the auto industry still ran on: technical aptitude, heritage, craft. But he'll have to figure out a way to square a world where his cars do so much more than one special thing, where they're part of a networked world, before everyone else figures it out.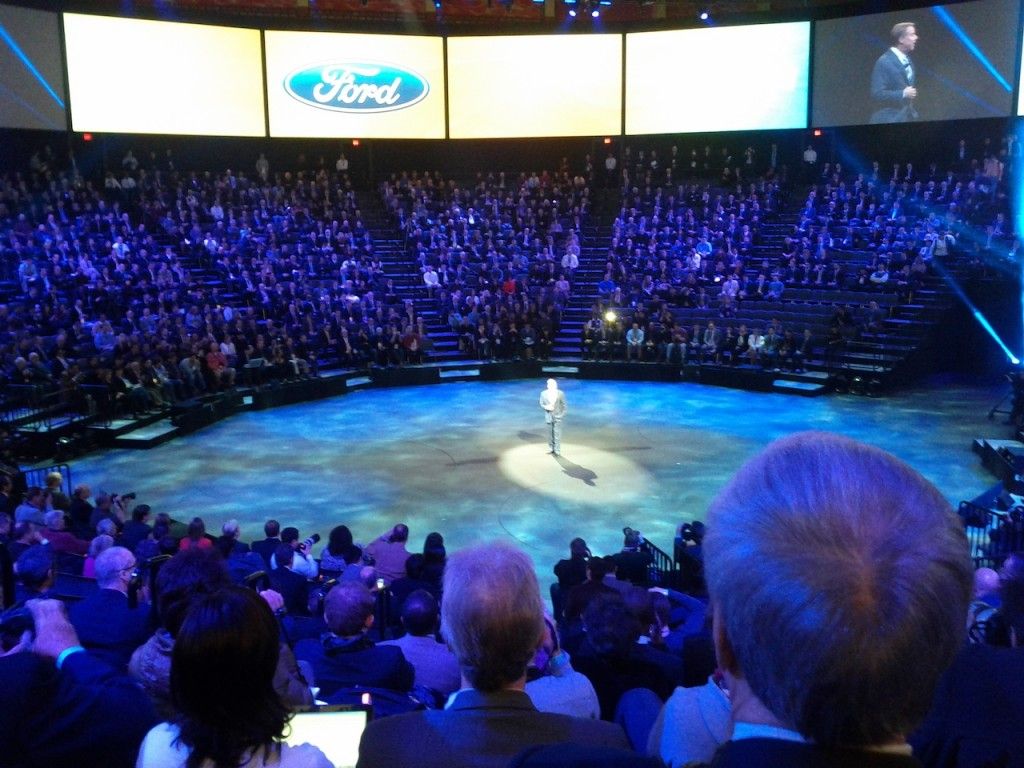 After Mays' lunch address, It's already time to leave, and we're hustled back to the buses and on to the airport. Getting to finally see the inside of Ford HQ was important to me, but a little disappointing at the same time. The company's special sauce, the emphasis on the craft, and the legacy of Henry Ford is still strong, but it clearly has elements that have yet to move forward into the 21st century. It's tough for a company to evolve rapidly, especially one that employs over 200,000 people, so you get these small aberrations in philosophy, and a latent throwback culture. On a longer scale, as long as Ford is a company that's dependent on the combustion engine for its products, it will be working on borrowed time. This is the biggest point of conflict in the company, that an entire generation, probably anyone under thirty, associates cars that burn gas with anachronism, with a world greedy for resources desperate to cling to something that works for now, even though it realizes it won't work forever.
It was maybe around the middle of the auto show tour that I spotted Ford's perfect company line from us bloggers emitted in a tweet. It managed to ring around to like minded folks, who retweeted and retweeted until it had been given enough weight to make the 'top tweet' list: "Ford — a technology company that happens to make cool cars". I'm not sure how this should read, really. Like most important things, what Ford is trying to do, and how that will shape the hundreds of thousands of people who are connected to it, as suppliers, as engineers, as neighbors, is too broad for 140 characters. It's even too broad for a 6,000 word shambolic, rambling essay. I guess there's not much else you can go with but the hedge-y "Ford: a Detroit innovator trying to power the globe". But in a world of inconsistencies and wavering attention, its heartening the company seems consistent in this goal.